On a fun and eco-friendly Segway Mobility Scooter tour, tourists can travel through the city or countryside to explore the magnificent scenery while listening to a guided tour comfortably. Not only can visitors save time and energy, but they can also have a better and more memorable experience during their vacation.
However, for guides, Segway mobility scooter tours and bicycle tours are more difficult to organize than walking tours because visitors travel fast and can easily fall behind, and because visitors are more spread out, it can be more difficult for guides to pass on instructions.
The good news is that the guides only need a segway tour guide system to keep in touch with all the members of the group. This prevents tourists from falling behind and ensures that the guide's explanation of the sights is clearly heard by each and every tourist.
So, do you know how to choose the best segway tour guide system? In addition to the basic criteria of clear sound and durable quality, I suggest you consider the following points.
Long communication range - because of the greater range of motion of the Segway and bike tours.
Pocket size and lightweight - touring with a heavy device can greatly reduce the comfort of the trip.
Wireless and hand-free - this ensures that visitors are not annoyed by tangled cables or unfree hands while on the trail.
Equipped with a carrying bag - the carrying bag should be able to hold a complete set of equipment and all accessories, it is a good helper for the guide on the go.
Easy and convenient to use - plug and play, no tedious steps, all functions are preferably one-button operation.
You may ask, there can meet the above characteristics at the same time, but also an affordable Segway tour guide system? Of course, there is, it is our newly released TT112-TT111 wireless tour guide system.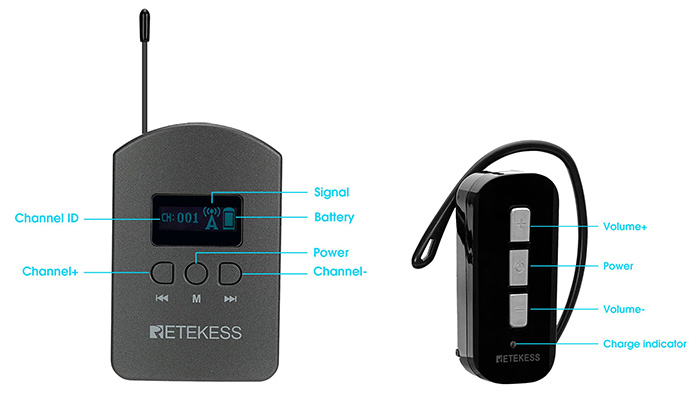 Transmitter and receiver working range of up to 200m/656ft.
The transmitter is smaller than the palm of your hand and the ear-hook receiver is light, both for both left and right ears.
No additional earphone cable is required for the ear-hook receiver, and the transmitter can be hung around the neck or carried in a pocket with the included lanyard.
With a 48-port carrying case can hold 48 devices and accessories such as headphones, microphones, and lanyards.
The features of one-touch mute, one-touch off all transmitters, and automatic pairing are not only convenient for tour guides but also easy to operate.
Of course, different tour groups have different needs for tour guide audio systems, we have more than ten kinds of tour guide audio systems, and they have different functional characteristics, communication ranges,s and standby times, there is always one that can make you satisfied.
Retekess, as a manufacturer of tour guide systems for 14 years, has been committed to providing every customer with the best tour guide system within their budget, so if you have any needs or questions, please feel free to contact us and our professional team will serve you wholeheartedly.