Support 100 channels, clear sound quality, no noise
UHF technology, strong ability to penetrate walls, stable signal reception
Non-in-ear ear-hook headphones, universal for left and right ears, clean and hygienic
Small size, light volume, easy to store, light and portable
Working time is 8-10 hours, and the communication range of 200 meters is in an open area
Only
10000
left in stock - order soon.
TT122 UHF professional tour guide system is composed of 4 wireless transmitters, 60 ear-hanging earphone receivers, and a 64-port TT006 charging case.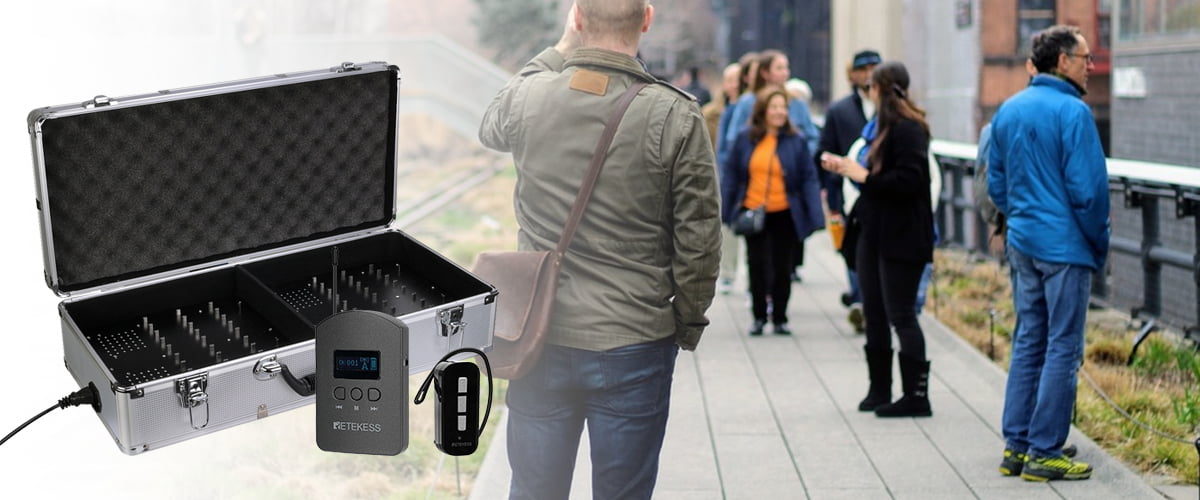 200 meters communication range
Using UHF technology, through the wall, the transmission distance is long, stable use within 200 meters, with no noise. When traveling and visiting, it meets the communication needs in long distances and noisy environments and is in line with the contact range of various outdoor activities.

Support 100 channels
Don't worry about using the signal interference caused by the same channel, because there are 100 channels to choose from in the same area, it is not a problem for 100 groups of tour groups or organizations to carry out activities at the same time, providing communication services for more teams.

Enough battery power
The battery capacity of the TT112 wireless transmitter is 3.7V/1900mA, and the working time is about 10 hours. The battery capacity of the TT111 receiver is 3.7V/520mA, and the working time is 8-9 hours.
Lightweight and portable
The TT112 transmitter with a weight of 128.6g, which is light and wireless, freeing hands. The receiver is only 38.6g, ear-hook earphones, only 1 earpiece is needed, and the earhook can be adjusted, which is universal for left and right. Easy to store and carry.

Comfortable earpiece receiver
Not the in-ear design, easy to clean, to ensure clean and hygienic. At the same time, it is more comfortable to wear.

Adjust volume
First of all, earphones can be used by hearing patients and elderly people whose hearing is gradually weakened. Secondly, the audience can adjust the volume by pressing the button, choosing a moderate volume, and protecting the ears while obtaining clear sound quality.

Simple operation and easy setup
The transmitter can tune the frequency, mute, or turn off all receivers with one key, and a single receiver can also be turned off individually. In addition, within a range of about 2 meters, the transmitter can also be uniformly matched and automatically paired with the receiver. Simplify the personnel operation steps, and save time.

Rugged charging case
Made of aluminum alloy, anti-drop, shock-proof, fire-resistant, durable, portable design, carry it with you. When charging, take out the foam box in the charging box and keep the lid of the charging box open to dissipate heat.
Application of tour guide equipment:
Tour Group
Outdoor tours, indoor museum visits. With the wireless transmitter of the lacing clip microphone, the tour guide can add more fluent body language and transmit cultural knowledge to the tourists. With wireless earhook receivers, listeners can use the left and right ears alternately to reduce hearing fatigue, and they can also pay attention to the surrounding sound environment at any time to protect themselves.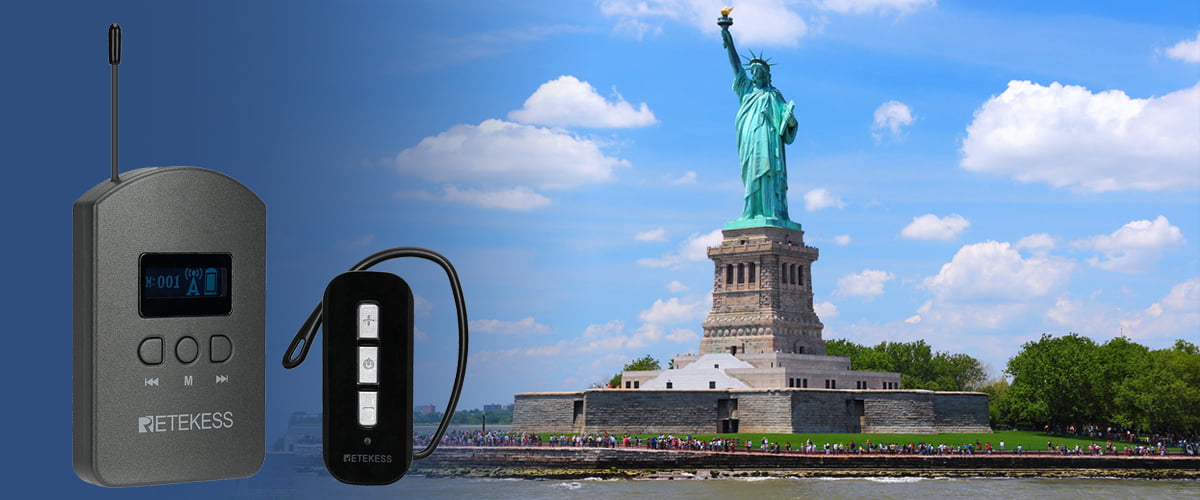 Conference
Corporate meetings, international conferences. While reducing noise pollution, it ensures that all participants and listeners can receive crystal-clear sound quality, improving meeting efficiency and completing tasks efficiently.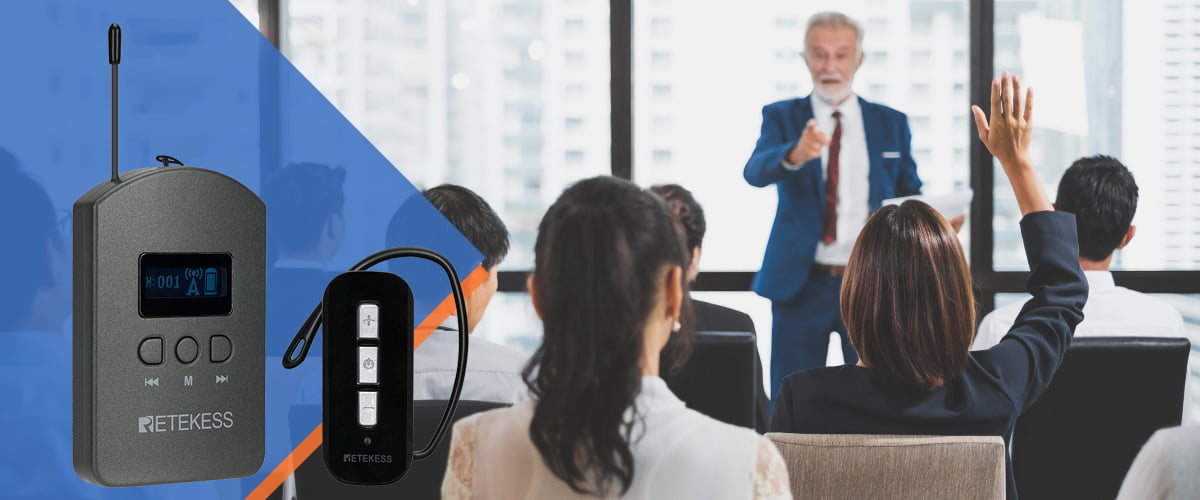 In addition, the professional tour guide system is also widely used in simultaneous interpretation, church translation, VIP reception, teaching training, equestrian training, factory visits, product exhibitions, round table meetings, special forums, and temple explanations.
Please fill in your procurement needs and contact information
TT112

Wireless Transmitter

Frequency Range
902-928mhz(American)
Charge time
5H

ID

Number

100(American)
Working time
10H
Supply Voltage
DC3.7V
Battery specification
3.7V/1900mA
Transmitting power
≦50mW
Charge Jack
MINI USB
Frequency stability
±0.001﹪
Modulation frequency deviation
±320KHz
SNR
90dB
Working current
320mA
Size
150*65*15mm
Communication range
200m (open air)
Weight
128.6g
Charging voltage
DC5V
TT111

Wireless Receiver

Frequency Range
902-928mhz(American)
Working time
8-9H

ID

Number

100(American)
Battery Specification
3.7V/520mA
Supply Voltage
DC3.7V
Charge Jack
MINI USB
TIS
-90dBm
Modulation frequency deviation
±Working 320KHz
Frequency stability
±0.001﹪
Working current
68mA
SNR
80dB
Standby current
1mA
Size
60*48*20mm
Charging current
320mA
Weight
38.6g
Communication range
200m (open air)
Charge time
2H
Charging voltage
DC5V
TT006 64 Slot Charge Case

Input

AC110-220V, 50/60Hz

Output

DC 5V, 7A

Size

575 x290 x 140mm

Weight

4320g
Package Include:
TT112 Wireless Transmitter x4
Wireded microphone x4
Lanyard x4
TT111 Wireless Receiver x60
USB Cable x64
User Manual x1
64 slot charging base x1
Charging cable x1
Q: Do I need to open the lid when using the charging case to charge?
A: When charging, take out the foam box in the charging box and keep the lid of the charging box open to dissipate heat.
Q: How many receivers does single transmitter support?
A: Supports an unlimited number of receivers, and the number of receivers can be increased at any time within 200 meters of an open area.
Q: How long does it take to fully charge?
A: 5 hours for the TT112 transmitter and 2 hours for the TT111 over-ear headphone receiver.