We often receive questions from customers like: Can you tell me the model that is easy to clean or does not need to be inserted into the ear? How can I be sure that the headset is always clean?
It's true, whether you buy a wireless tour guide system for tour group tourists, for church members, or for business meetings, your audience is always changing. Listeners can get their hands on headphones that have been used by many strangers, and the bacteria, sweat, or parasites on them can make people resistant to using a tour guide audio system.
That's okay, we have 3 ways to make sure your tour guide headphones are always clean and sanitary without a lot of time or high cost.
Use ear hook headphones instead of in-ear headphones
Obviously, in-ear headphones don't need to be inserted into the ear, they can be hung on the left or right ear to listen clearly. This reduces the contact area between the tour guide headsets and the user, which in turn reduces bacteria and dirt on the headphones. It is also easy to clean, just wipe it with alcohol.
By the way, compared with in-ear headphones, ear hook headphones are more comfortable, more suitable for prolonged wear, and friendly to those with ear canal allergies.
Disposable sponge earphone cover
We offer replaceable disposable sponge headphone covers for the on-ear headphones, so when your listeners change, just give the tour guide headsets a new sponge cover to keep them clean and hygienic.
In addition, the foam earphone covers are super soft and delicate, providing a more comfortable user experience; they are highly flexible and durable, making it easy and convenient to put them on your headphones.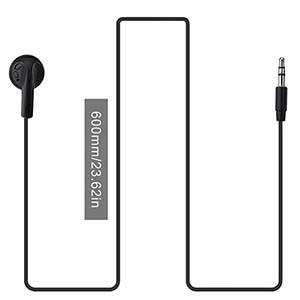 These disposable headphones are single-sided headphones that allow the user to keep one ear listening to the surrounding activity while listening to the audio, which is safer and does not completely isolate the visitor from the outside environment.
They can be worn in both the left and right ear and are suitable for people with hearing impairment in one ear. In the case of prolonged use, it can also be worn alternately in the left and right ear to avoid listening fatigue or damage to hearing caused by prolonged listening.
The quality and sound quality of these disposable headphones are no less than that of headphones that can be reused multiple times. Your visitors won't hear background noise or static interference, and they can focus on the content of the presenter's message.
The disposable headset's length of 600 mm/23.62 inches means visitors can carry the receiver in their pants or shirt pocket while listening, or hang it around their neck with the included lanyard, without worrying about disconnecting or wearing it uncomfortably due to the short length of the headset cord.
If your visitors are concerned about the hygiene and safety of the headsets they come in contact with, you can choose any of the above 3 methods according to your needs. If you have any questions, please feel free to email us at info@retekess.com, we have a professional customer service team to answer your questions and provide advice.