TT106 whisper receiver
Automatically pair with receivers
Volume adjustable
One key to turning off all the receivers
100 meters range in the open area
Only
1000
left in stock - order soon.
For this TT106 2 transmitters with 30 receivers and 2 charging bases and one carry case. This model supports 2 transmitters talking in one group, so if you have 2 guides, it works perfectly for you. If you need more packages, feel free to contact us and get the quantity you need.
Feature:
TT106 ear-hook tour guide system
Support 2 transmitters talk in one group
If you have 2 guides in one group, you can use this model. So two people can talk.
AUX and mic jack
The transmitter has both a speaker mic jack and an aux jack
9999 channels
With those channels, you can use more transmitters in the same area.
One transmitter support unlimited receivers
So if your group increase, you can add more receivers as you need.
Long time use
After a full charge, the transmitter can last 6-8 hours. After a full charge, the receivers can last 10-12 hours
One key to turning off all the receivers
One key to turn off all the receivers, so you can save a lot of time to deal with the system.
Transmitter with mute function
It is very convenient to use if you want to mute the device for a while.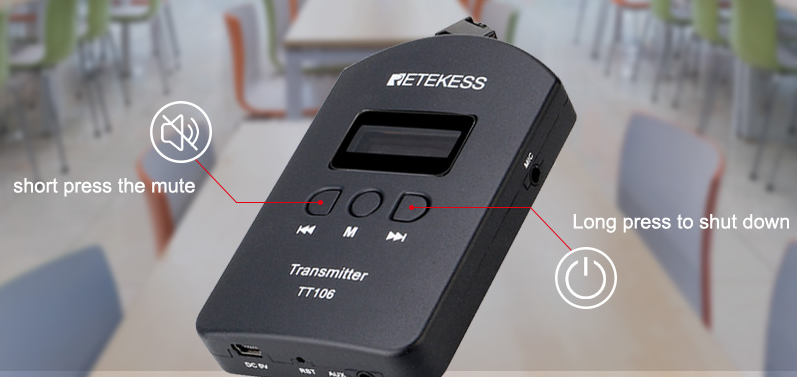 Charging base
It has 16 ports, so 2 charger bases can charge 32 devices. And you can put all the devices in the carry bag.
Carry Bag
48-slot to carry 48 devices, and it has a net bag to put the accessories.
This TT106 whisper system is widely used in tourism, conference, and translation area.
Please fill in your procurement needs and contact information
TT106 Wireless Transmitter

T

T106 Wireless Receiver

Frequency Range
2400~2483MHz
Frequency Range
2400~2483MHz
ID Number
9999
ID Number
9999
Supply Voltage
DC3.7V
Supply Voltage
DC3.7V
Transmitting power
≦50mW
TIS
-90dBm
Frequency stability
±0.001﹪
Frequency stability
±0.001﹪
SNR
80dB
SNR
80dB
Size
97*63*18mm
Size
65*58*11mm
Weight
70g
Weight
18g
Charge time
3H
Charge time
2H
Working time
25H
Working time
23H
Battery specification
3.7V/1300mA
Battery Specification
3.7V/380mA
Charge Jack
MINI USB
Charge Jack
MINI USB
Modulation frequency deviation
±320KHz
Modulation frequency deviation
±320KHz
Working current
62mA
Working current
15mA
Communication range
150m (open air)
Standby current
1mA
Charging voltage
DC5V
Charging current
320mA
Communication range
150m (open air)
Charging voltage
DC5V
Carry Bag:
Material: Nylon cloth wrapped with EVA
Size: 370*340*110mm/14.56*13.38*4.33 inch
Weight:1890g
Question: can all the 2 transmitters and 30 receivers and 2 bases be put in the package?
Answer: Yes, they do
Question: How many transmitters can I use in one group?
Answer: 2 transmitters can be used in one group.
Question: How can I clean this device?
Answer: Hello friend, you can use the alcohol pad to wipe it.