Everyone in the same group can talk to each other
UHF transmission reduces noise and improves sound quality
Frequency range: 746MHz~823MHz
13 channels allow 13 groups to work simultaneously in one area
Transmission distance of about 200 meters
Easy to operate
Only
20000
left in stock - order soon.

One-way and two-way selectable
TT124 two-way guided tour audio system supports one-way presentation and two-way talk mode switching to meet your diverse needs. When the guide wants to let the guided person focus on what he or she is saying, he or she can use one-way presentation mode; when both parties need to communicate, the guide can switch to two-way mode, and then the guided person can communicate with him (including all group members).
Transmission distance
In open areas, the two way tour guide audio system has a transmission range of up to 280 meters. Group members do not have to be crowded together, they can move freely within 280 meters from the transmitter.
Crystal clear sound
TT124 2-way tour guide system adopts UHF transmission, which can reduce noise to the greatest extent and restore the real sound quality. Your visitors can focus more on what the guide is saying without being disturbed by the noise or static in the headphones.
Hands-free tour guide system
The TT124 two-way tour guide audio system has a clip on the back so you can pin it to your belt or pocket. Or you can use the included lanyard to hang it around your neck to free your hands, which also prevents the device from falling off.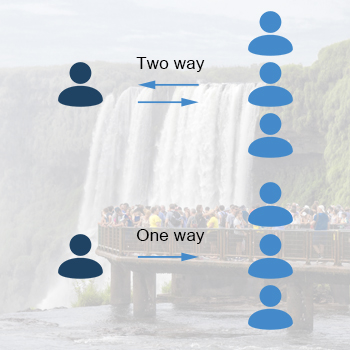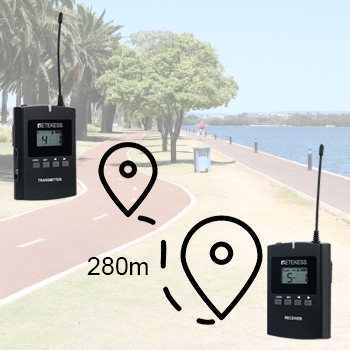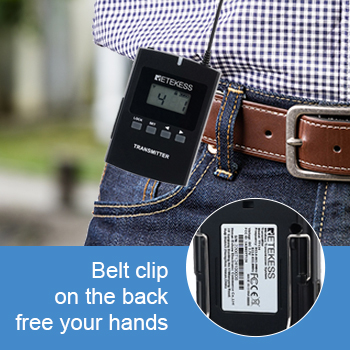 Large capacity rechargeable battery
The transmitter has a built-in 2500mAh rechargeable lithium battery that can be used continuously for 7 hours on a full charge, and the receiver has a built-in 2500mAh rechargeable lithium battery that can be used continuously for 12 hours, which is enough for most tours, factory visits or teaching and training.
Volume adjustment
The two-way tour guide system has 10 levels of volume, usually, 3 - 4 levels are sufficient, but if you are visiting a noisy factory or have a hearing-impaired person in the group, you can find the right volume.
Add receivers
A transmitter can work with numerous receivers on the same channel. As your group grows in size, you can add as many sub-receivers as you need.
Small and lightweight
The transmitter and receiver are compact in size, weighing only 72 grams. This makes them easy to carry and more comfortable to wear.
Please fill in your procurement needs and contact information
Main Transmitter:
Frequency Range:746MHz~823MHz

Channel Number:13CH

Transmitter Power: 18dBm

Supply Voltage:3.0-5.0VDC

Audio Input:3.5mm line

Oscillator:All digital

Frequency Response:20Hz-16KHz

SNR:80dB(Typical)

Image Rejection:>80dB

Image& Spurious Rejection :>75dB

hannel Spacing:1MHz

Separation: 75dB(Typical)

Distortion:<1%

Working currency: 80mA(18dBm)

Furthest Distance:200Meter

Size:70*50*17mm

Wight:72g
Vice transmitter
Frequency Range:746MHz~823MHz

Channel Number:13CH

Supply Voltage:3.0-5.0VDC

Audio Input:3.5mm line

Oscillator:All digital

Frequency Response:20Hz-16KHz

SNR:80dB(Typical)

Image Rejection:>80dB

Image& Spurious Rejection :>75dB

Channel Spacing:1MHz

Receiver Sensitivity:-100dBm(Typical)

Separation:75dB(Typical)

Distortion:<1%

Working currency:50mA

Furthest Distance:280Meter

Size:70*50*17mm

Wight:72g
Package:
1x main transmitter
1x vice transmitter
2x speaker mic
2x chaging cable
1x User manual