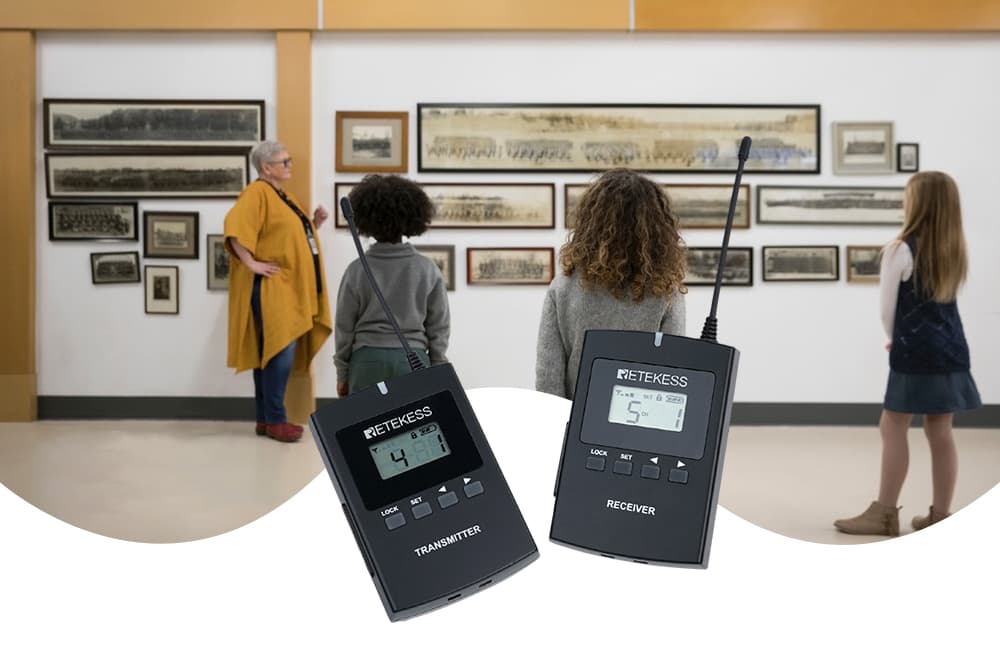 The two way audio tour guide system is a wireless, portable audio solution that allows visitors to easily and clearly listen to and ask questions of the tour guide, even from a distance. Using a transmitter with a microphone, the guide transmits information to the visitor, who receives it through a lightweight receiver with headphones, creating an interactive, convenient and superior tour experience.
More and more museums are now allowing group tours using guided tours. There are many reasons for this.
The need to maintain order and quiet in the building
Better control of visitor groups
Distance between tour members
Also, in contrast to one-way tour guide systems, the two way audio tour guide system allows visitors to stop passively listening to the one-way explanation of the guide and visitors can interact with the guide.
TT124 two-way communication system can both transmit and receive audio, whether visiting a museum or an exhibition or a gallery, the guide is able to communicate with the participants and ask questions on the spot without having to raise his voice or repeat his words.

Features of this two-way communication headset:
UHF transmission enhanced anti-jamming ability, more stable signal, and clear and crisp sound without noise, museum visitors can quasi-focus on the guide's explanation of the artifacts and exhibits.
Wireless transmitter and receiver communication range of up to 280 meters, visitors do not have to be close to the guide to listen to the explanation, and they have more space for free movement.
TT124 two-way interactive system supports one-way mode and two-way mode, when the museum guide wants to let visitors focus on what he is talking about, he can use one-way mode; when both parties need to interact, the guide can switch to two-way mode, visitors can press the call button to communicate with the guide (including all group members). Guides are able to choose and easily set the ideal engagement mode for their tour.
Support for MIC input and AUX input means that the guide can connect external audio devices to play his pre-recorded explanations for his visitors so that the guide does not have to repeat the museum narration to different visitors over and over again.
The system has two hands-free ways of wearing, museum docents and tour members can either hang the device around their necks with the included lanyard or hang it on their pockets or belts with the device's back clip.
The volume of the receiver is freely adjustable from level 0 to level 9, which is also friendly to elderly culture lovers who are hard of hearing.
Easy to set up, with a key lock function, to prevent misuse.
TT124 two way audio tour guide system is a revolutionary audio tour guide system for any museum, gallery, or exhibition that wants to attract the attention of the audience in an innovative way and enhance the interactivity and fun of the visit.
If you have any questions or needs, please feel free to contact us and one of our professional customer consultants will be happy to serve you.
---