Ear-hook headphones, clean and hygienic, not be plugged into the ear
Wireless portable transmitter for more freedom of hands
Support one-button mute or turn off all receivers, improving efficiency
Working time: 10 hours for the transmitter, 8-9 hours for the receiver
Lightweight and portable, easy to store, aluminum alloy charging box, durable
Only
10000
left in stock - order soon.
The TT112 guiding group tour guide system includes 2 wireless transmitters, 15 ear-hook receivers, and a 32-port charging box, using UHF technology, long-distance communication up to 200 meters, crystal-like sound quality, and very suitable for tour groups, museums Presentations, outdoor training, company meetings, and other activities.
Wireless portable transmitter
The transmitter works with a lavalier microphone and a lanyard, lightweight and wireless. Placed on the chest, always pay attention to prevent loss. The most important thing is to free your hands, the tour guide can give full play to his speech and better serve the tourists.

Ear-hook wireless Receiver
Only 1 earpiece is needed, and both left and right ears can be used by adjusting the ear hook. On the one hand, it saves the cost of using two, and on the other hand, replacing them alternately can reduce the hearing fatigue of tourists and protect the ears. In addition, listening to one ear can also pay attention to the surrounding situation at any time and pay attention to self-protection.

Supports 100 channels, unlimited number of receivers
Turn on the transmitter, you can choose any channel from 001-100, up to 100 tour groups can be accommodated in the same area, and will not be interfered with by the signal and will not affect each other. The transmitter can be matched with multiple receivers. Within the same group, within 200 meters, the number of tourists wearing wireless earphone receivers can be increased.

Clear sound with adjustable volume
The guiding group tour guide system uses UHF technology, which has a strong ability to pass through walls and a clear sound. In addition, the most suitable volume can be adjusted according to the environment in which it is located. High volume is more helpful for people with poor hearing, and the elderly will benefit more.
One-click function
Through the transmitter, you can match or automatically match all receivers with one button, and you can also mute or turn off all headphones with one button. Easy to set up, simple to operate, fast and quick, save time and improve efficiency.

Battery durable
The working time of the transmitter can reach 10 hours, and the built-in 3.7V/1900mA durable battery can be fully charged in 5 hours. The working time of the receiver is 8-9 hours, the battery capacity is 3.7V/520mA, and it only takes 2 hours to charge. For tour guides, it can be used for one or two days at a time, after all, not all the time needs to use the equipment.
Lightweight and portable
The single weight of the transmitter is 128.6g, and the single weight of the earpiece is 38.6g, which is convenient for storage. Charging case, made of aluminum alloy, durable, fireproof, weighing 2.35kg, ready for charging service.

Application scenarios of the guiding group tour guide system:
The application of the tour guide system is very extensive. In addition to the tourism industry, it is also very suitable for university education, company meetings or silent meetings, church translation, and factory visits. In short, for any activity that needs to reduce noise pollution and requires long-distance communication, chooses a guided tour system, all problems are not a problem.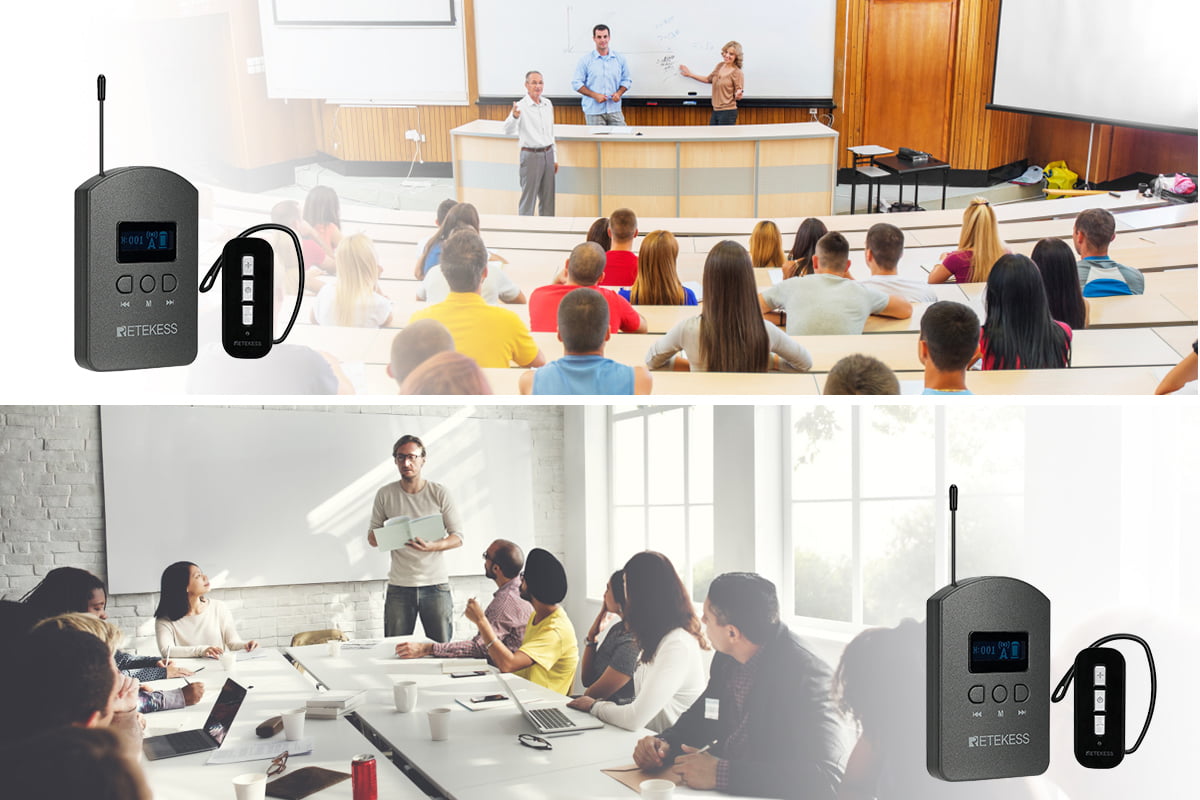 Please fill in your procurement needs and contact information
TT112

Wireless Transmitter

Frequency Range
902-928mhz(American)
Charge time
5H

ID

Number

100(American)
Working time
10H
Supply Voltage
DC3.7V
Battery specification
3.7V/1900mA
Transmitting power
≦50mW
Charge Jack
MINI USB
Frequency stability
±0.001﹪
Modulation frequency deviation
±320KHz
SNR
90dB
Working current
320mA
Size
150*65*15mm
Communication range
200m (open air)
Weight
128.6g
Charging voltage
DC5V
TT111

Wireless Receiver

Frequency Range
902-928mhz(American)
Working time
8-9H

ID

Number

100(American)
Battery Specification
3.7V/520mA
Supply Voltage
DC3.7V
Charge Jack
MINI USB
TIS
-90dBm
Modulation frequency deviation
±Working 320KHz
Frequency stability
±0.001﹪
Working current
68mA
SNR
80dB
Standby current
1mA
Size
60*48*20mm
Charging current
320mA
Weight
38.6g
Communication range
200m (open air)
Charge time
2H
Charging voltage
DC5V
TT005 32 Port Charging Case

Input

AC110-220V, 50/60Hz

Output

DC 5V, 7A

Size

310 x285 x 140mm

Weight

2350g
Package Include:
TT112 Wireless Transmitter x2
Wireded microphone x2
Lanyard x2
TT111 Wireless Receiver x30
USB Cable x32
User Manual x1
32 slot charging base x1
Charging cable x1
Q: How to charge the device?
A: There are two charging methods. First, you can choose a USB charging cable for single charging, or use the TT002 16-port charging base (additional purchase is required). In addition, you can also choose a 32-port charging case.
Q: Can automatically match all receivers?
A: Automatic matching is supported. There is a transmitter nearby (within about 2 meters) that is in wireless frequency pairing mode, and the channel of the receiver will automatically match the channel of the transmitter (at this time, the receiver's display light will be on, wait for the transmitter to exit wireless frequency pairing mode) , the display light of the receiver will flash once every 2.5 seconds, the frequency pairing is successful)