Ear hanging headphones, not into the ear, clean and hygienic
Ear hook adjustable, left and right universal, relieve fatigue
Transmitter supports one key to match, mute or turn off all receivers
UHF technology, 200m communication range in open area
Can set up to 100 channels, multiple teams use at the same time
Only
10000
left in stock - order soon.
TT122 earhook wireless tour guide system includes 1 TT112 wireless transmitter, 15 TT111 earpieces receivers and 1 TT002 16-port charging base. When traveling and visiting, the tour guide system helps speakers and audiences to solve communication problems in long distances and noisy environments, allowing listeners to gain an immersive experience.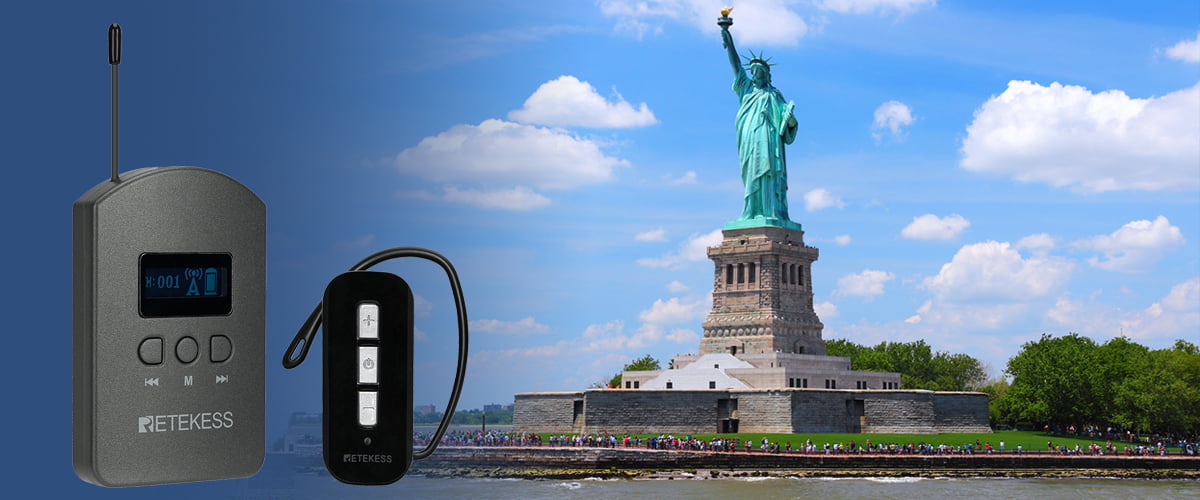 Unlimited number of receivers supported
The transmitter can be docked with an infinite number of receivers, serving more listeners and meeting the use of different mutiple groups
Clear sound at long distances
Using UHF technology, super penetration ability, stable signal reception within a range of 200 meters, while ensuring clear sound quality and ultra-high sound reproduction.

Adjustable volume
According to the keys of wireless reveivers, continuously adjust the volume until the most comfortable one appears. At the same time, it can also help hearing patients or the elderly to hear the sound from the transmitter clearly.

Long working hours
The transmitter has a built-in battery, the battery capacity is 3.7V/1900mA, the charging is 5 hours, and the service life is 10 hours. The receiver has a built-in 3.7V/520mA battery, which can be charged for 2 hours and has a service life of 8-9 hours. For outdoor activities such as tour groups or museums, the use time is enough. In addition, it supports two charging methods. You can use a USB charging cable to connect an external 5V adapter (the package does not include the adapter) to charge the receiver separately, or use a 16-port TT002 charging base.
Easy to set up and operate, feature rich
One-click matching and automatic pairing of all receivers. Simplify the difficulty of personnel operation, quickly, without delaying any speech time.
One touch to mute or turn off all receivers. The speaker can choose whether to let the audience hear his voice according to the actual situation. For example, when the speaker takes a break or drinks water, or when he leaves to go to the toilet, he can choose the silent mode. After the meeting is over, collect the receivers and turn them off with one key to improve efficiency.

Free your hands
TT112 transmitter, combined with a lanyard, and a lavalier wireless microphone, allow hands to be free.
Ear-hook headphones are shared left and right
Not be plugged into the ear, clean and hygienic, comfortable to wear. In addition, the earhook can be adjusted, and the left and right can be used alternately to relieve the hearing fatigue.

Lightweight and portable
Single transmitter 128.6g, single receiver 38.6g, lightweight and wireless, easy to carry.

In addition, the TT002 charging base has functions such as overvoltage protection, overcurrent protection, abnormal temperature protection, electrostatic protection, short circuit protection, electromagnetic field protection, overpower protection, lightning protection and other functions.
Application scenarios of the earhook wireless tour guide system:
Tour group:
The tour guide wears a lavalier microphone, hangs the wireless transmitter on the chest, and has free hands, making the service more vivid. Tourists only need one headset, which can not only listen to the content of the speech in a long distance and noisy environment, but also pay attention to the surrounding situation to ensure their own safety.

Company conference:
With the help of the TT112 receiver, the presenter speaks at a normal volume, and within a range of 200 meters, only listeners wearing wireless receiver headphones can hear the sound like a crystal version. Reduce noise pollution and create a good meeting environment.

Other:
The earhook wireless tour guide system is also widely used in school outdoor teaching, equestrian training, church translation, etc.
Please fill in your procurement needs and contact information
TT112

Wireless Transmitter

Frequency Range
902-928mhz(American)
Charge time
5H

ID

Number

100(American)
Working time
10H
Supply Voltage
DC3.7V
Battery specification
3.7V/1900mA
Transmitting power
≦50mW
Charge Jack
MINI USB
Frequency stability
±0.001﹪
Modulation frequency deviation
±320KHz
SNR
90dB
Working current
320mA
Size
150*65*15mm
Communication range
200m (open air)
Weight
128.6g
Charging voltage
DC5V
TT111

Wireless Receiver

Frequency Range
902-928mhz(American)
Working time
8-9H

ID

Number

100(American)
Battery Specification
3.7V/520mA
Supply Voltage
DC3.7V
Charge Jack
MINI USB
TIS
-90dBm
Modulation frequency deviation
±Working 320KHz
Frequency stability
±0.001﹪
Working current
68mA
SNR
80dB
Standby current
1mA
Size
60*48*20mm
Charging current
320mA
Weight
38.6g
Communication range
200m (open air)
Charge time
2H
Charging voltage
DC5V
TT002 16 Port Charging Base

USB Output

DC 5V/7A

Adapter Input

AC100-240V 50/60Hz

Size

190 x 95 x 50mm

Weight

430g
Package Include:
TT112 Wireless Transmitter x1
Wireded microphone x1
Lanyard x1
TT111 Wireless Receiver x15
USB Cable x16
User Manual x1
1 x Charging base
1 x Adapter (please tell us which type of the plug do you need)
Q: How to charge the device?
A: There are two charging methods. First, you can choose a USB charging cable with a 5V adapter (not include) for single charging, or use the TT002 16-port charging base.
Q: How many channels are supported?
A: The US version supports up to 100 channels, and the European version supports up to 36 channels. Please choose the one that suits you best.