TT124 2-way tour guide system kit includes 1 transmitter, 27 receivers, and a 28-port charging case
Two-way interactive mode and one-way transmission mode can be switched
Two-way communication system communication distance up to 280 m
13 channels allow 13 groups to work simultaneously in one area
UHF frequency transmission, anti-jamming, reduces noise
Transmitter works for 7 h; receiver works for 12 h
Lightweight and portable, weighing only 72 grams
Easy to use and set up
Widely used in factory tours, group tours, trekking, training, conferences, and teaching
Only
100
left in stock - order soon.

Two-way communication
The transmitter can talk directly to the receiver, and the receiver can talk to all group members, including the transmitter, by simply pressing the SET button or the talk button on the headset. This means the guide can interact with the tourist in real time to capture his attention and enhance his travel experience.
Two-way interactive mode and one-way mode can be switched
When the guide wants the guided person to focus on what he is saying, he can use the one-way explanation mode; when both parties need to interact, the presenter can switch to the two-way mode. The two communication modes of the two-way communication system can be switched at will to meet your diverse needs.
Lock screen function
The two-way tour guide system has a screen lock function, when locked, the device will not change regardless of clicking any button. This means users can make any body movement they want without worrying about accidentally touching the buttons. To adjust the channel or volume, simply press and hold the Lock button for more than 3 seconds to unlock it.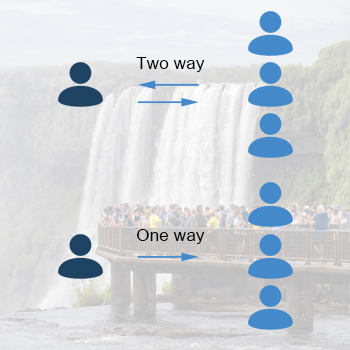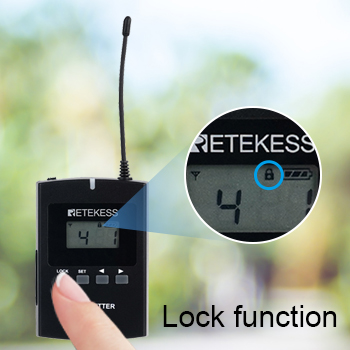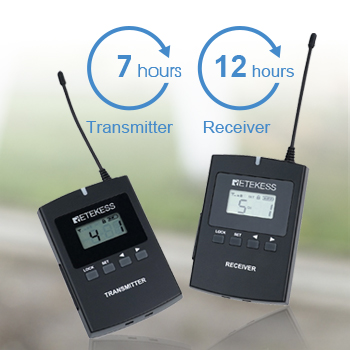 Rechargeable high-capacity battery
The transmitter has a built-in 2500mAh rechargeable lithium battery, which can be used continuously for 7 h when fully charged, and the receiver has a built-in 2500mAh rechargeable lithium battery, which can be used continuously for 12 h, so you don't need to charge it often and don't have to worry about the device losing power in the middle of the event.
Durable Charging Case
The matching 28-port charging case can charge 1 transmitter and 27 receivers at the same time, making charging more convenient and safe. The charging case is made of aluminum alloy, which is drop-proof, fireproof, and durable. It can also be used as a storage case, so it will be more convenient to carry on business trips.
Long transmission distance
The working range of the transmitter is up to 280 meters, and the guided person can move freely within 280 meters from the guide without having to huddle together. When visiting the factory, the demonstrator's voice can cover a larger range and more visitors without worrying that the visitors behind can't hear him.
Thoughtful design
The 1-9 adjustable volume levels of the 2-way communication system allow any user to find a comfortable sound level; the large LED display shows the information on power, channels, volume, etc., so you can easily understand the settings of the equipment; the lanyard equipped with each device both frees your hands and prevents dropping it.

Please fill in your procurement needs and contact information
Main Transmitter:
Frequency Range:746MHz~823MHz

Channel Number:23CH

Transmitter Power: 18dBm

Supply Voltage:3.0-5.0VDC

Audio Input:3.5mm line

Oscillator: All digital

Frequency Response:20Hz-16KHz

SNR:80dB(Typical)

Image Rejection:>80dB

Image& Spurious Rejection :>75dB

Channel Spacing:1MHz

Separation: 75dB(Typical)

Distortion:<1%

Working currency: 80mA(18dBm)

Furthest Distance:200Meter

Size:70*50*17mm

Wight:72g
Vice transmitter
frequency Range:746MHz~823MHz

channel Number:23CH

Supply Voltage:3.0-5.0VDC

Audio Input:3.5mm line

Oscillator: All digital

Frequency Response:20Hz-16KHz

SNR:80dB(Typical)

Image Rejection:>80dB

Image& Spurious Rejection :>75dB

Channel Spacing:1MHz

Receiver Sensitivity:-100dBm(Typical)

Separation:75dB(Typical)

Distortion:<1%

Working currency:50mA

Furthest Distance:280Meter

Size:70*50*17mm

Wight:72g
Package:
1 x main transmitter
27 x vice transmitter
28 x speaker mic
1 X 28-slot charging case
1x User manual