In the tourism industry, effective communication plays a key role in providing travelers with memorable and immersive experiences. Traditionally, loudspeakers have been used to convey information during travel. However, with the advancement in technology, the Wireless tour guide system has become a better option.
⚪ Clear, distortion-free audio: Unlike loudspeakers, which are affected by ambient noise or distance, audio tour equipment provides clear audio transmission even in crowded or noisy environments. This ensures that every traveler hears the guide's instructions, stories, and explanations, regardless of their position in the group. The absence of background noise or distortion enhances visitors' understanding and enjoyment of the tour.
⚪ No interference with other visitors: Speakers rely on amplified volume to transmit information, which inevitably creates a noise nuisance for residents near the attraction, and Barcelona, Spain, has even enacted a ban on the use of loudspeakers in residential areas in response to this mess. Whisper headsets deliver information efficiently and effectively without disturbing others outside of the tour group.
⚪ Privacy and immersion: Using the whisper tour guide system allows visitors to maintain privacy while still receiving valuable information. Unlike speakers that may interfere with other tourists or the immediate area, the Wireless tour guide system ensures that only the intended recipient hears the narration. This privacy enhances the immersive experience and allows visitors to focus on the tour without distraction.
⚪ Flexibility and mobility: The Whisper system for tours offers both guides and tourists the freedom to move around without losing communication. Unlike loudspeakers that require everyone to stay in close proximity, the audio guide system allows visitors to explore at their own pace while staying in touch with their guide. This flexibility and mobility enhance the overall tour experience as visitors can interact with their surroundings, take photos and enjoy a more personalized journey while receiving real-time information and guidance through tour headsets.
⚪ Professionalism and customization: The Whisper system offers tour guides and travel agents the opportunity to maintain a professional image and strengthen their brand. With a customized tour guide system, travel agents can incorporate their logo, colors, or other branding elements to create a cohesive and memorable experience for visitors. This level of professionalism not only enhances the credibility of the tour operator but also helps to differentiate guides and organizations from their competitors and leave a lasting impression on travelers.
In the dynamic and competitive travel industry, tour guide systems have become a game changer, offering numerous advantages over traditional loudspeakers.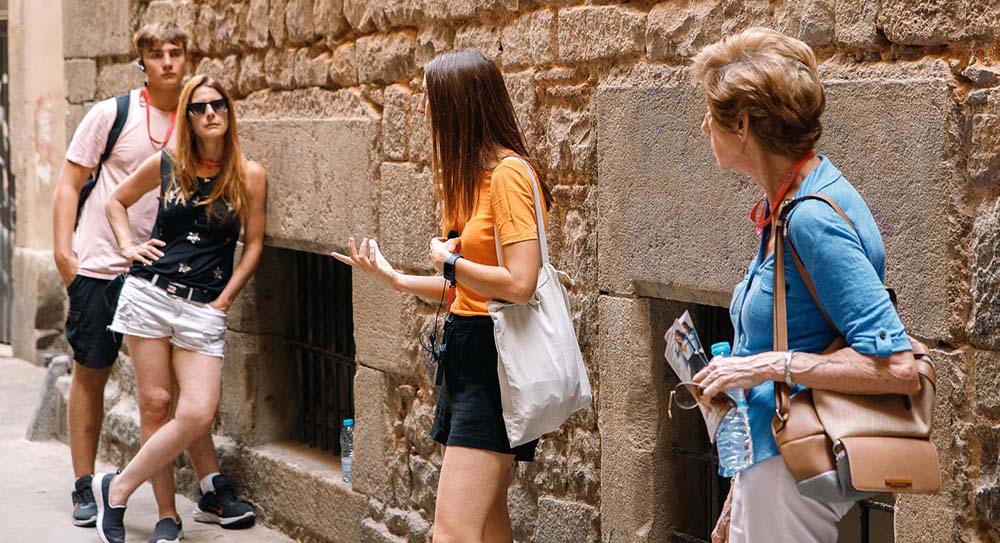 So, do you know what factors to consider before buying a whisper audio system?
Audio quality: Clear sound transmission is essential to ensure that participants can hear the guide's instructions, explanations, and comments without any distortion or background noise.
Range: Consider the size of your tour group and the area you will be exploring. Choose a tour guide equipment with the right coverage to suit the size of your group.
The number of channels: If you anticipate conducting multiple tours at the same time or need specific language channels for multilingual tours, choose a tour guide system that offers multiple channels. This allows you to offer different content or translations without disturbing other tours or causing confusion.
Ease of Use: User-friendly whisper mic system minimizes distractions during tours.
Battery life: especially if you have long tours or multiple tours a day. The system should have long-lasting and durable batteries. Or you can opt for a device with replaceable batteries.
Customization: If branding is important to you, look for a tour guide system that offers customization options. Our tour guide kit allows you to incorporate logos or branding elements to create a cohesive and professional look for your tour.
Reliable customer support and warranty:

Retekess tour guide system

with 30 days no reason return, 2-year warranty, and lifetime free technical support, rest assured.
There are probably more than a few key aspects to consider before you invest in tour guide equipment, so if you need help choosing a model or have any questions, please feel free to contact our professional and enthusiastic team.