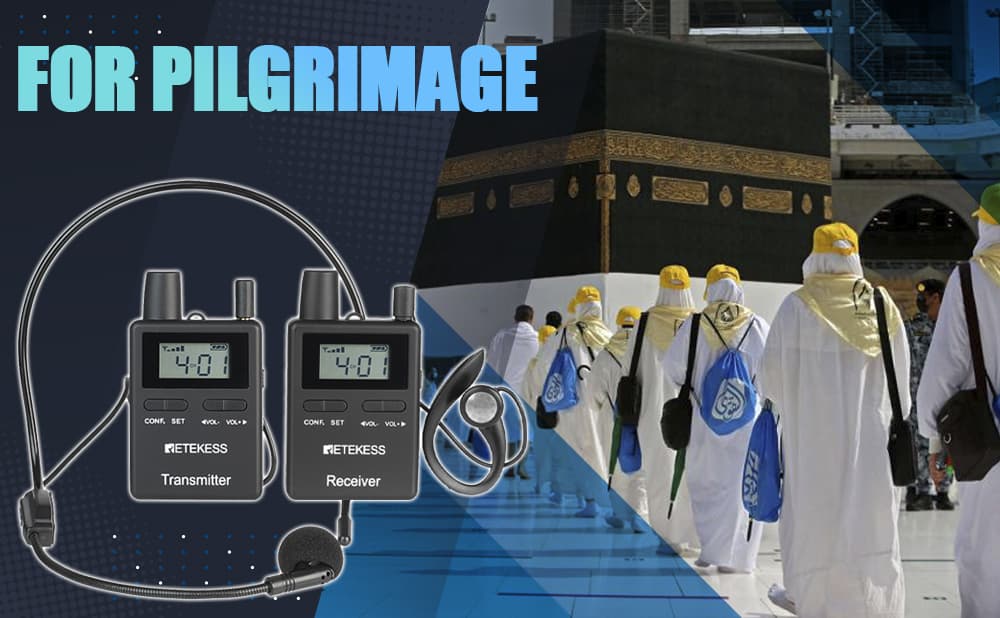 Why do Hajj and Umrah travel agencies need a tourist guide system for your clients? Because it provides comfort and excellence in travel experience to the tourists.
Hajj is the dream of every Muslim, at least once in a lifetime. Although it is an important religious duty, guides face communication problems when managing trips to holy places. Because of the noisy surroundings, the pilgrimage leader has to shout, otherwise, it is difficult for him to easily convey his words to every Muslim; Muslims also have to crowd around the guide, otherwise, they will not hear the guide's instructions or explanations, which means that the tourists do not have the space to move freely.
This not only makes it difficult for guides to managing large groups but also does not provide a satisfactory travel experience for Muslim tourists.
Retekess wireless tour guide system helps Hajj and Umrah tour operators solve this tricky problem in an economical and convenient way, allowing Muslim tourists to have an unforgettable time and ensuring they realize their divine dreams.
Retekess TT109 tourist guide system is the best wireless audio tour guide system for Hajj and Umrah. It not only solves the communication problems mentioned above but is also easy to use, lightweight and portable, making it a very practical helper and tool.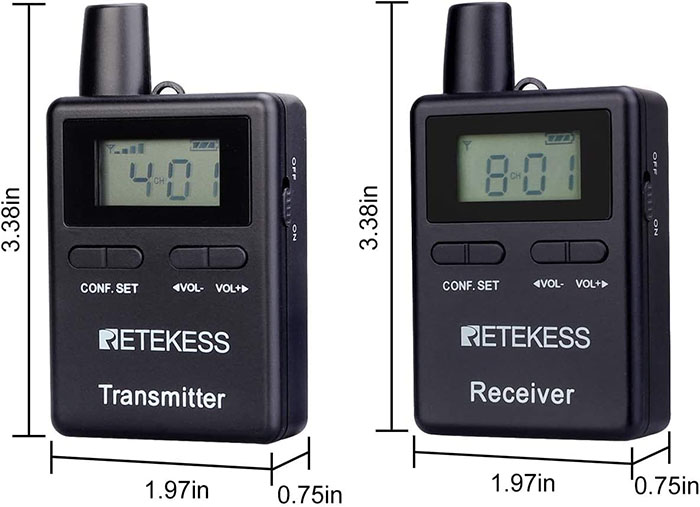 Long working range: open-air transmission distance up to 180m/590ft, which is also suitable for large tour groups with large numbers of people.
2.4GHz frequency transmission: global public frequency band sound quality is stable and available worldwide
Large battery capacity: the tour guide system only needs 2-3 hours to be fully charged, the transmitter can work for 8 hours and the receiver can work for 18 hours after being fully charged. With such a long battery runtime sufficient for most Hajj or Umrah, pilgrimage leaders do not have to worry about running out of power in the middle of the journey.
Auxiliary Audio Input: The wireless transmitter's microphone jack can also be used as an AUX jack to connect the transmitter to external devices such as computers, radios, MP3s, etc. using a 3.5mm audio cable. The receiver can hear music or other voice files from these audio devices.
Volume adjustment: The transmitter has 5 volume levels and the receiver has 10 volume levels. Muslims can freely adjust the volume they want through the volume buttons on the wireless tour system, and the hearing impaired or elderly people with poor hearing can easily find the right volume level.
50 channels: The tourist guide system has 50 channels, supporting 50 pilgrim groups to use the same area together without interference or crosstalk.
One-button automatic pairing: With a simple operation, you can synchronize all receivers with transmitters in less than 4 seconds. You don't have to pair your devices one by one before the event starts, especially if there are a large number of receivers, automatic pairing saves you time and increases efficiency.
User-friendly accessories: The transmitter comes with a neck-mounted microphone, which allows for better sound pickup and lower noise. The receiver features a single-ear headset that is comfortable and secure to wear and does not fall off easily during walking. Each device has a lanyard that hangs around your neck, freeing up your hands and preventing you from dropping it.
If you are looking for the best 2.4ghz digital wireless audio tour guide system for Hajj and Umrah, Retekess is surely the best choice for you. We are known as one of the leading manufacturers and suppliers in China, providing you with customized services at low prices. If you have any questions or needs, please feel free to email us at info@retekess.com. Our professional customer consultants are always at your service.
---