A good tour guide cares not only about the substance he wants to convey to his visitors but also about their comfort during the tour. The best solution is of course the audio tour guide system, which more and more guides are using.
However, receivers and headphones pass through the hands of many people and they can have bacteria and even disease-causing viruses, fungi, and parasites. It is not safe for them to receive equipment that has been used by other groups before.
Although Retekess wireless receivers have a universal 3.5mm jack for headphones that are compatible with standard jack headphones, travelers may not carry their own headphones on their trips. Therefore, the travel agent or tour guide needs to take care of your visitors and provide them with precautions!
First of all, you must clean the tour guide system thoroughly and regularly. You should wipe the surface of the device with a disinfectant solution to remove any bacteria that may be present.
Alternatively, you can add our disposable headphones or disposable headphone sponge covers, which help prevent the spread of germs and bacteria and are relatively inexpensive, allowing you to provide clean and hygienic headphones and a quality listening experience for every visitor at a lower cost.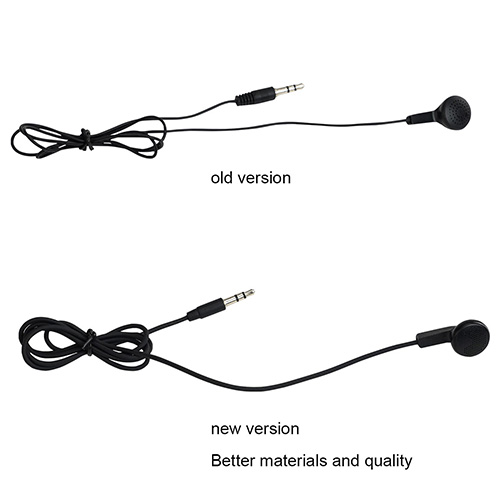 Our disposable headphones are single-sided headphones that allow users to keep one ear listening to the surrounding activity while listening to audio;
They can be worn in both the left and right ears, supporting alternating left and right ear wear, and are also suitable for people with poor hearing in one ear;
The sound quality of these disposable headsets is not inferior compared to those that can be reused multiple times, and visitors can focus on the content of the message delivered by the guide;
Comfortable to wear with a cable length of 600 mm/23.62 in
Durable, stylish appearance;
Disposable foam ear pads are ideal for replacing worn or soiled ear pads and keeping the headset earpiece clean and hygienic;
It is made of high-quality, soft, and comfortable foam with better breathability and sound transmission for long and comfortable listening;
High elasticity, easy to install and remove. that fits perfectly in the headphones of our T131 TT101 TT104 and TT122 receivers;
By the way, every wireless transmitter and receiver are equipped with 1 lanyard, which is used to hang the device around the neck to free your hands. After multiple wears, the lanyard may be stained with sweat or bacteria, it does not matter, our lanyard is made of washable material, and you can safely throw them into the water to clean them.
For guides, It is very important for guides to keep their communal device sanitary, which represents the service attitude and professionalism of a travel agency. If you are also faced with the problem of keeping your audio tour guide system sanitary, I hope the above information will be helpful to you.
If there are any questions or needs, please email us at info@retekess.com, our professional sales consultants look forward to serving you!