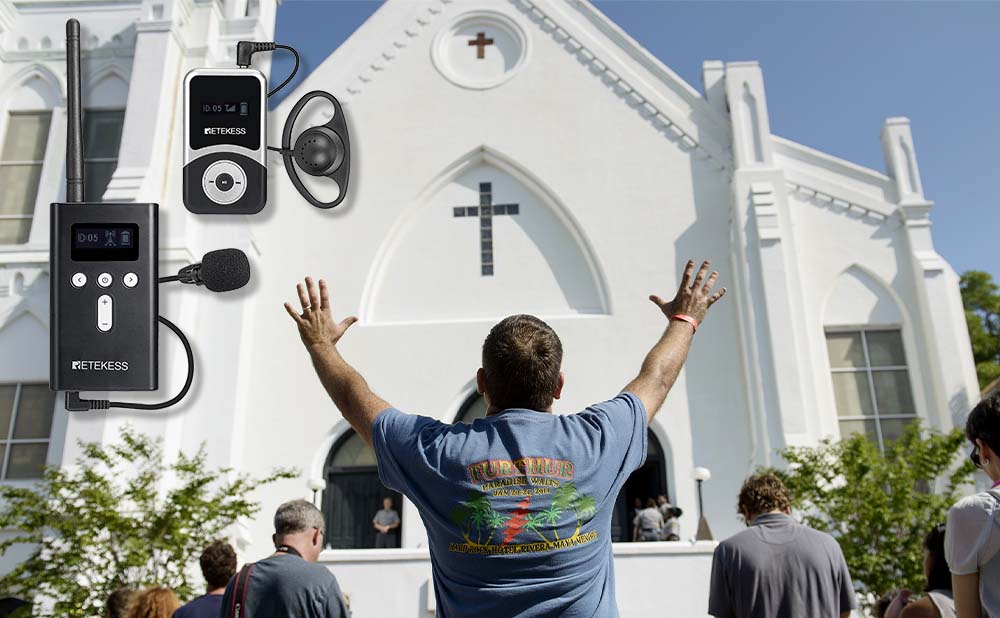 Interpretation equipment is a tool for providing translation services, translation services are designed to help religious institutions overcome the language barrier and reach out to members of their community who may not understand the language used in their sermons or teachings. Here are some reasons why interpretation equipment is important to a church and house of worship:
Inclusion: Interpreting equipment allows churches to accommodate people who speak other languages, creating an inclusive environment where everyone can participate fully in worship services and events.
Accessibility: For those with hearing impairments, interpretation equipment supports adjusting the volume of listening, and ensures that they can fully engage with the service or event.
Connection: A translation device for the church allows people from different backgrounds and cultures to connect with each other through shared worship experiences, further strengthening the sense of community within the church.
Outreach: By providing interpretation equipment, churches can extend their reach to people who may not otherwise attend due to language barriers. This can open up new opportunities for evangelism and community outreach.
Overall, the church translation system helps to create a welcoming and inclusive environment where everyone feels valued and able to participate fully in church life.
The number of users: The number of people who need translation equipment should be the first consideration when choosing equipment. If it is a small group of people, then a few translation receivers and microphones may suffice. However, if a large number of people is expected to attend the service, then multiple receivers should be considered.
Quality of sound: It is essential to choose an interpreter system that allows for high-quality sound output. This is important especially if the services are being held in large spaces such as auditoriums or church halls. The equipment should provide clear and audible sound to all receivers.
Compatibility: The chosen equipment should be compatible with other audio systems used in the church. This will ensure seamless integration and optimal results.
Ease of use: Translation equipment that is easy to use by both the translator and the receiver is important. The equipment should be user-friendly and not require extensive training.
Battery life: Battery life is also an important consideration. The chosen equipment should have a long battery life to avoid any interruptions during the service.
Maintenance and cost: Maintenance and cost are also important factors to consider while choosing translation equipment. The equipment should be easy to maintain and affordable for the church.
Retekess interpretation equipment supports custom quantity, and you can interpret multiple languages for any number of congregations at the same venue. In addition, its sound is crystal clear, plug and play, you can choose with confidence.
---