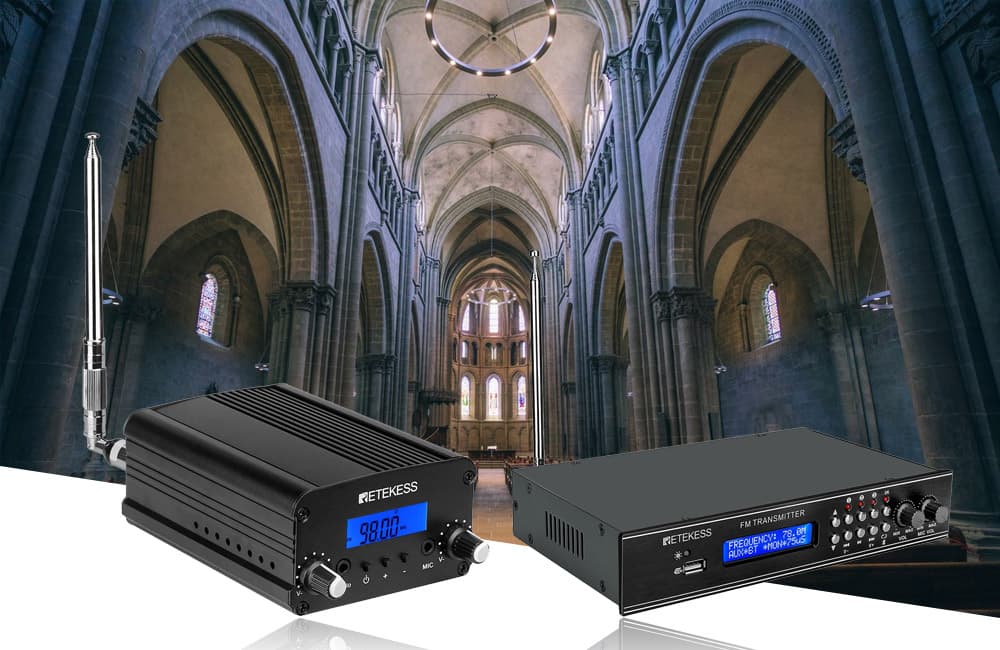 With the impact of COVID-19, churches have had to change the way they deliver their messages to the public in order to maintain social distance and keep church sermon participants safe.
This is not a difficult problem, and we have found a clever solution. Churches use FM transmitters to broadcast their messages, and congregants simply park in the church parking lot and tune their car radios to the same channel as the church transmitter, and the congregation can then listen to the church sermon in comfort.
This church service solution has been proven by many of our customers and it really works. If you too want the easiest and most affordable way to keep in touch with your congregation, you can check out the two best FM transmitter for drive-in church services below.
The TR510 FM transmitter has 3 preset buttons to store your favorite frequencies, and the next time you use it, you can just press the corresponding button to tune it out immediately and avoid the hassle.
This best FM transmitter uses the latest QN8007 chip, the signal is more stable, and no noise will bring you a different sound experience.
It supports multiple inputs, such as Bluetooth, a U disk, audio, and dual microphone. It can be connected to a variety of audio devices to play music or other voice files, such as TV, tablet, MP3, computer, etc.
TR510 FM transmitter Transmission distance in open areas can reach 500-1000 meters, which is enough for most churches.
This transmitter is compliant with FCC rules part 15, it will not cause interference to other devices, and you can use it without worrying about non-compliance.
The TR509 FM audio transmitter can transmit about 300 meters in open areas, so even if you have a large congregation, you'll have full coverage.
Microphone input and auxiliary audio input are supported. If you need to speak, you can use an external microphone, or if you want to play audio files, just connect your audio device to the FM transmitter's audio port with an AUX cable. FM transmitter has independent volume adjustment buttons, you can adjust the microphone and audio volume as needed, easy to operate.
Support stereo audio mode, compared with mono, stereo sound with a variety of sound sources with a sense of direction and distribution improves the clarity of information.
Under the global pandemic, governments restrict attendance at parties, church events, or other crowded places, a policy that has led to an increase in the frequency of FM transmitter applications. In addition to drive-in church services, it is also widely used in concerts, campuses, and large shopping malls to create a safe communication environment.
We also have other models of FM transmitters that are also very popular with customers, but we cannot show them one by one due to limited space. If you are interested, please feel free to contact support@retekess.com, our customer service team will provide you with the most professional advice.
---